Chadar Trek 2018, Fixed departure Jan, 2018
The Mountains are Calling
And I must go.
With steep mountains and winter snow causes many passes in Ladakh region to close down. Some of the villages get cut off in the winters, the only way to reach them is trekking over ice frozen rivers. Chadar trek is also about trekking over frozen rivers in Zanskar valley. If you are up for real adventure than Chadar trek is a real feast for you, walking on frozen ice with cold water gushing below your feet just inches away nothing can get better than this. Temperature may fall upto -20 to -30 degree Celsius.
This trek starts from your arrival at Leh airport. Our representative will meet you there.
Trek Overview:-
 

Place

 

 

Leh, Ladakh(Jammu & Kashmir)

 

Duration

 

9 days

 

Grade

 

 

Difficult

 

Maximum Altitude

11,200 ft.(3143 mtrs)
 

 

Trek Grade

 

Simple walks on Ice sheet (frozen River) every day for 4 to 7 hours and strictly depends on

 weather conditions

 

 

Physical Fitness

 

 

A reasonable degree of physical fitness is needed for this trek.

 

Trekking Distance

 

 

72 kms -74 kms approx
Batch Departure Date:-
-15th Jan,2018
-21st Jan,2018 
-25th Jan,2018
-5th Feb,2018
Per Person Cost:- INR 23,900/- including 5% GST charges
Maximum Group Size:- 12 members
Trek Itinerary:-
Day 1 – Arrival at Leh.( Altitude – 11,400 ft.) (Dinner)
Arrive at one of the highest airports in the world.
During day time you can spend time visiting Leh market and some last minute shopping for your trek.
Dinner and Overnight stay at cosy guest house.
Day 2 – Leh to Tilad Do via Chiling.( Altitude – 11,400 ft. – 10,400 ft.) (B/F,Lunch,dinner)
Today we will be having some travelling to do through picturesque and snow clad mountains.
Enjoy the beauty of village Nimu where Zanskar merges with Indus.
After passing Chiling, walk over the river and fell the gushing water below your feet.
Overnight stay here with some real warm sleeping bags.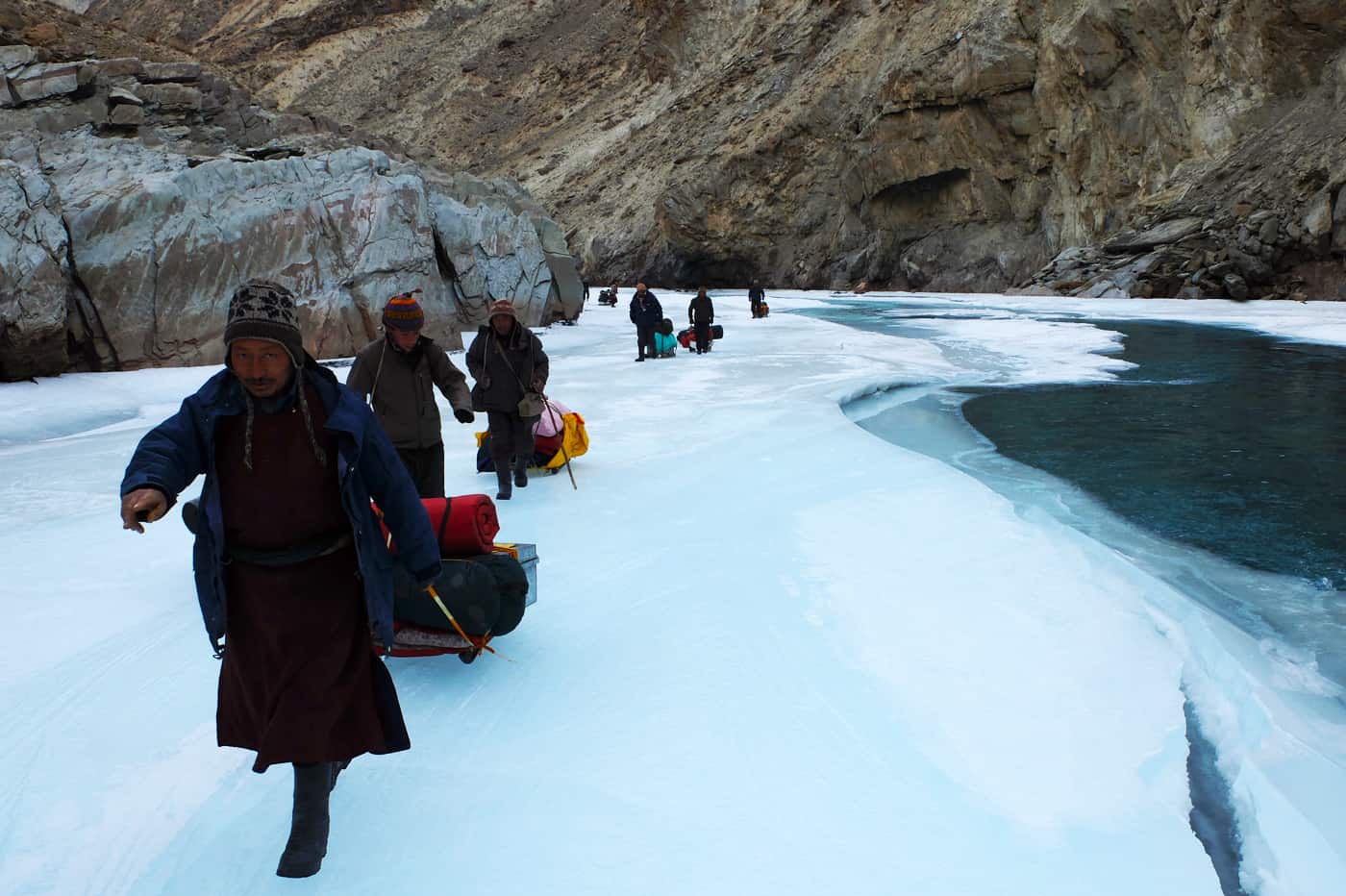 Day 3 – Tilad Do to Gyalpo.(10,400 ft to 10,600 ft) (B/F,Lunch,dinner)
After hot morning tea you will spending the rest of your day in the cold.
It takes a while to get used to walking on the ice but after a while you will get used to it.
Mid way to your trek, we will halt for Lunch.
You will reach Gyalpo after passing through Shingra Koma.
Early dinner after long trek of 12kms, retire for the day.
Day 4 – Gyalpo to Tibb Cave (10,600 ft to 10,800 ft) (B/F,Lunch,dinner)
After warm tea and breakfast in the morning, brace yourself for the longest trek with 14kms to cover.
Enjoy the beauty of ravines of Zanskar along with numerous small and large caves.
You will also be passing through multiple frozen waterfalls.
Visit to a massive cave at Tibb which is the dwelling of locals. Enjoy butter tea with them.
Dinner & Overnight stay at camps.
Day 5 – Tibb Cave to Naerak(10,800ft to 11,200 ft) (B/F,Lunch,dinner)
Today the trek is for approx 12 kms.
Today's trek is going to be one of the most spectacular out of all days. Don't miss to take picture of multiple prayer flags.
Just few steps away is the giant frozen waterfall. As the sunlight bounces on this frozen water body, enjoy multiple coloured lights produced through its reflection.
At Naerak you would be able to witness the life of a Zanskari.
Dinner and Overnight stay at camps.
Day 6 – Naerak to Tibb(11,200-10,800 ft) (B/F,Lunch,dinner)
We start the return journey from Naerak to Tibb caves.
One your return you would be astonished to see that the Chadar is completely in the new form.
You will also meet many monks and school students returning from your winter vacation.
Overnight stay at the Tibb caves with some warm sleeping bags.
Day 7 – Tibb to Gyalpo(Shingra Koma) (10,800 to 10600 ft) (B/F,Lunch,dinner)
Enjoy the beauty of high mountains by your sides almost giving you a feeling of castle walls.
Umpteen pug marks on the way are from Foxes, Snow Leopard and Ibex.
Stay overnight at Gyalpo.
Day 8 – Gyalpo to Tilad Do and Drive to Leh.(B/F,Lunch,dinner)
This is the last to immerse in the pristine beauty of the frozen river.
Bid Adieu to the Zanskar river on reaching Tilad Do.
Short drive from Tilad Do to Leh city.
Enjoy your sleep at a comfortable Hotel.
Day 9 – Departing from Leh (B/F)
Unforgettable memories and some more respect for the Zanskaris you leave from Ladak.
You will have memories of lifetime through this trek.
This trek ends at Leh airport where you can take flight to your home city.
Inclusions
Exclusions
·         Accommodation. (Camping) and Leh guest house/hotel.
·         2 breakfast & 2 Dinner at Leh hotel on as per itinerary.·         All Meals while on trek (Bed Tea,B/F, hot/packed lunch, evening tea & Dinner).
·         Trek equipments.(sleeping bags, mattress, camps).
·         Permits.
·         First aid medical kits and oxygen cylinder.
·         Local & experienced trek Leader, Guide and Support staff to help trekkers.
·         Transport from leh to Road head and return.·         Leh Airport – hotel & hotel airport transfers.·         A Service of Tour manger from Himalayan footslog for complete trek. 
·         Food / Meal not mentioned under the head inclusions.

·
Any kind of personal expenses.
Insurance.
·         Porter to carry personal luggage.
·         Anything not specifically mentioned under the head price Includes.

·         Any airfares.

 
Trek Essentials have to carry during the trek:-
Backpack with rain cover (60 ltrs).(if you wants to hire a potter or muel to carry backpack then also carry a small back pack of 20-30 ltrs).
High Ankle waterproof shoes with good grip & 1 pair of flooters/flip-flops.
Cotton socks & wollen socks.
Leg Gaiters & Neck Gaiters.
T-Shirts, trek pants, Down feather jackets/hollofill jackets, wind proof and waterproof jacket,thermal inners(upper and lower).
Sun cap, woolen cap, Sun Glasses.
Woollen Gloves and Waterproof Gloves.
2 water bottle and a thermos.
Walking stick
Sunscream, Lipbam, toothbrush & toothpaste, Moisturiser & personal toilitries.
Fact Sheet:
Porters will be use for carry Kitchen Equipments & Trekking Food Items only.
Trekkers have to carry their Day bags/Rucksack by own.
Basic meals will be served during trek.
Any Person needed single Tent during Trek then will charge 400/-Per Day Extra
If anyone need, personal porter INR 1000 Per Porter.
Please note that your BMI should be less then 28 .
Please check below link for BMI calculation, If its more then 28, then you are not eligible for the trek.
https://www.google.co.in/search?q=bmi+calculator&oq=Bmi&aqs=chrome.1.69i57j35i39j0l4.2510j0j8&sourceid=chrome&ie=UTF-8
Physical Fitness for Trek:-
The fitter you are, the chances are better that you will extract the most from a trip.
As we gain higher altitude in a trek, the air becomes thinner. To cope up with the decreasing level of Oxygen we need to build Aerobic fitness.
Defying gravity and walking for a long duration on a steep slope with a rucksack/day-pack require a moderate level of Strength and Endurance training
Aerobic Fitness:
First Phase:
1) Walking: At the starting days it is a good starter. Walk 4/5 Km everyday, if possible on slopes. Maintain a speed. Complete 5 Km walk withing an hour. Continue for 5 days a week for 3 weeks.
2) Stretching: Once you complete the walk , do some usual regular stretching exercises/free hands including shoulder, neck, arms, waist and legs. Always do the stretching after your body is warmed up. Cold stretching is ineffective an may develop injuries.10 to 15 minutes.
Once you complete the initial 3 weeks you can start building up on it. You can start either of the following:
2nd Phase:
a) Jogging can be done inside a park or on a treadmill. Avoid jogging on concrete or tarred surface and use a properly cushioned running shoe. Initially try to cover 3 Km in 20 minutes and later 5 Km in 30 minutes. Follow stretching exercise as mentioned after the Jog/Run. Continue for 4/5 days a week for 5 weeks span.
b) Cycling is another effective way to increase your aerobic capabilities and to shed extra pounds quickly. If you can do an outdoor cycling, nothing compares to it. But in today's traffic condition it is difficult. Using a static cycle in home/gym, Initially cover a distance of 5 Km in 20 min with easy to moderate resistance available with the equipment. Later using moderate to high resistance cover a distance of at least 8 Km in 30 minutes. Follow stretching exercise as mentioned after the cycling session. Continue for 4/5 days a week for 5 weeks span.
Strength and Endurance training:
You can start this from 2nd Phase of your Aerobic training. Always do the Strength training after the Aerobic training and Stretching.
Aim on building strength in your back, shoulders, arms, and abdominal muscles. Your leg muscles will get stronger through the aerobic training.
a) At home you can do push-ups and sit-ups (abdominal crunches). Do three sets each with a repetition of 10-15.
b) Pull-up or Chin-ups is difficult to start with. If you are able to do then do 3 sets with 5-10 repetitions. Otherwise take someone's help and do assisted pull-ups of 3 sets with 8 to 12 repetitions.
c) Free squats of 3 sets with 10-15 repetitions. Avoid this if you have/had knee injuries.
d) In a gym or home you can do few basic weight training like biceps-curl, triceps press and shoulder press. Consult a physical trainer before this workout. Do 3 sets of each with weights ( as suggested by the trainer ) for 8-10 repetitions.
Remarks:-
The itinerary is subject to favorable road and weather conditions. We will do the best to make alternative arrangements in case of bad weather and inaccessibility to the destination before or after the tour has begun. The cost of the tour or any part of it will not be refunded in an event of unfavorable conditions anytime during the tour days, after the tour begins.
Participants will be expected to fill out a medical and disclaimer form in front of a medical assistant provided by us on first day and submit it before the trek starts .
General Terms & Conditions:
"HimalayanFootslog" organizes treks and other activities primarily in the Himalayan mountain ranges and in other outdoor regions. Travel in the remote mountain regions of the Himalayas involves certain inherent risks and dangers to life and property of both – the "HimalayanFootslog" team as well as the participants, which include but are not limited to, acts of God, danger from natural elements / extreme weather (landslides, cloudbursts, rock-fall, snowfall, etc.), problems arising out of exposure to high altitudes injuries / accidents on account of travel in difficult terrain, which may result in delays, injury, illness or under extreme circumstances, even death.
The participant is aware that the treks and related activities involve such risks and dangers; and that "HimalayanFootslog", within its limited capacity, takes viable measures to ensure the safety and comfort of the participants and to minimize the risks associated with these activities.
Understanding all the risks, dangers and related aspects mentioned in this section, participating in of any of the services offered by "HimalayanFootslog" constitutes a de-facto contractual arrangement between "HimalayanFootslog" and the Participant.
Accepting these terms and conditions denotes that the participant has understood all the terms & conditions mentioned hereafter, and that these terms and conditions shall be binding upon the participant at all times.
Confirmation:-
You can book the package by 50% of total amount.
100% payments will be cleared 7 days before trek.
Bank Account Details:-
Canara Bank
Account name:- Himalayan Footslog
Account Number:- 1964201000636
Account Type:- Current
Branch Name:- Shimla Mall Road
IFSC Code:-  CNRB0001964
Life is better in hiking shoes.