Rupin Pass Trek
With every hour Rupin Pass trek surprises you the orchestra of scenic surprises. Throughout your trek blue waters wouldn't leave your trail. This Rupin pass trek involves crossing snowy terrain and the beauty of it is really breathtaking. Glacial Meadows, terrific forests, numerous waterfalls and hanging village," hiking vacations, walking holidays, hiking trips, Rupin pass trek, trekking in the Himalayas, Himalaya trekking, Himachal tour, trekking in Himachal, trekking packages"Rupin pass has it all. Situated in Himachal Pradesh, this Rupin pass trek promises you the height of 15,272ft.
Our representative will meet you at Shimla Bus stand. This is going to be an early start at 7:30 am.
Proposed itinerary –
Day 1 – Drive From Shimla to Chirgaon(Gumma)
Drive to Chirgaon(Gumma). Chirgaon is the base-camp of this trek.
It covers the major tourist spots like Green Valley in Shimla, Kufri, Fagu, and Khadapathar.
Shimla to Chirgaon is 6 hrs drive.
Overnight stay at the campsite.
Day 2 – Gumma to Jakha (Via chanshal pass)
Today you will be doing a little hiking after a drive.
We are covering today very famous Chanshal pass, we will halt there for lunch and site seeing.
Take the road towards Kawar passing through rivulets and loads of picturesque locations.
Overnight stay at Jhaka. Enjoy the scenic beauty of the place.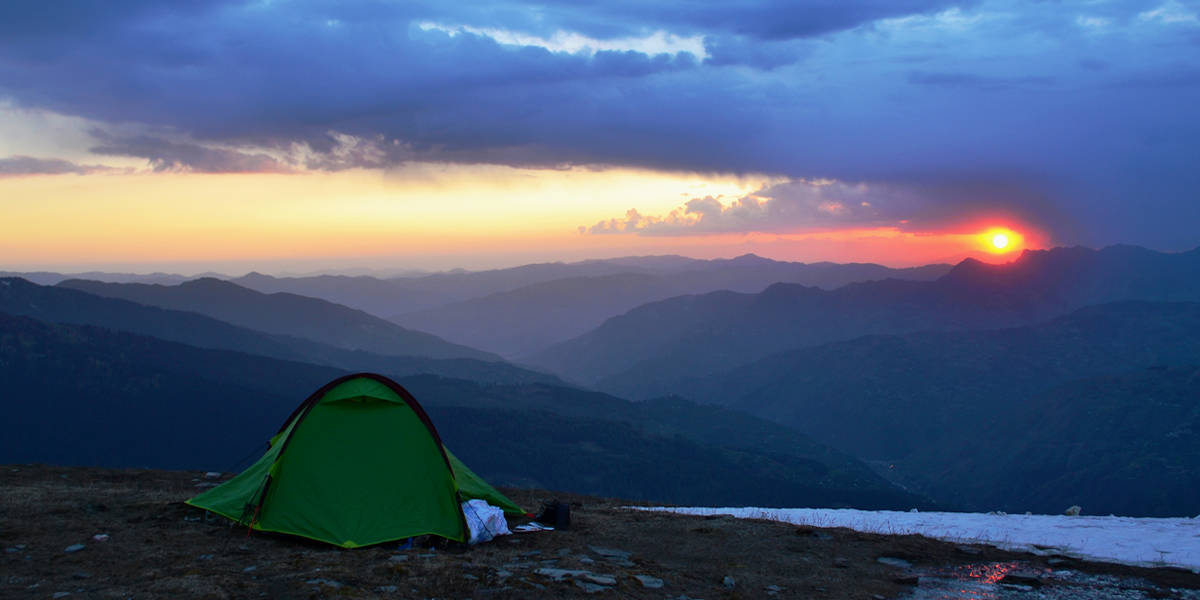 Day 3 Jhaka to Uraknaal Thatch
Jhaka is the place to replenish your supplies and look for porters if required.
Follow the well-defined trail into the forest through blue pines.
Feel the snow beneath your boots for the first time, get your sunglasses on too.
Trek through grassy terrains of Uraknaal.
Don't miss the beauty of Rupin waterfall at the distance. This is Uraknaal Thatch. Camp here overnight.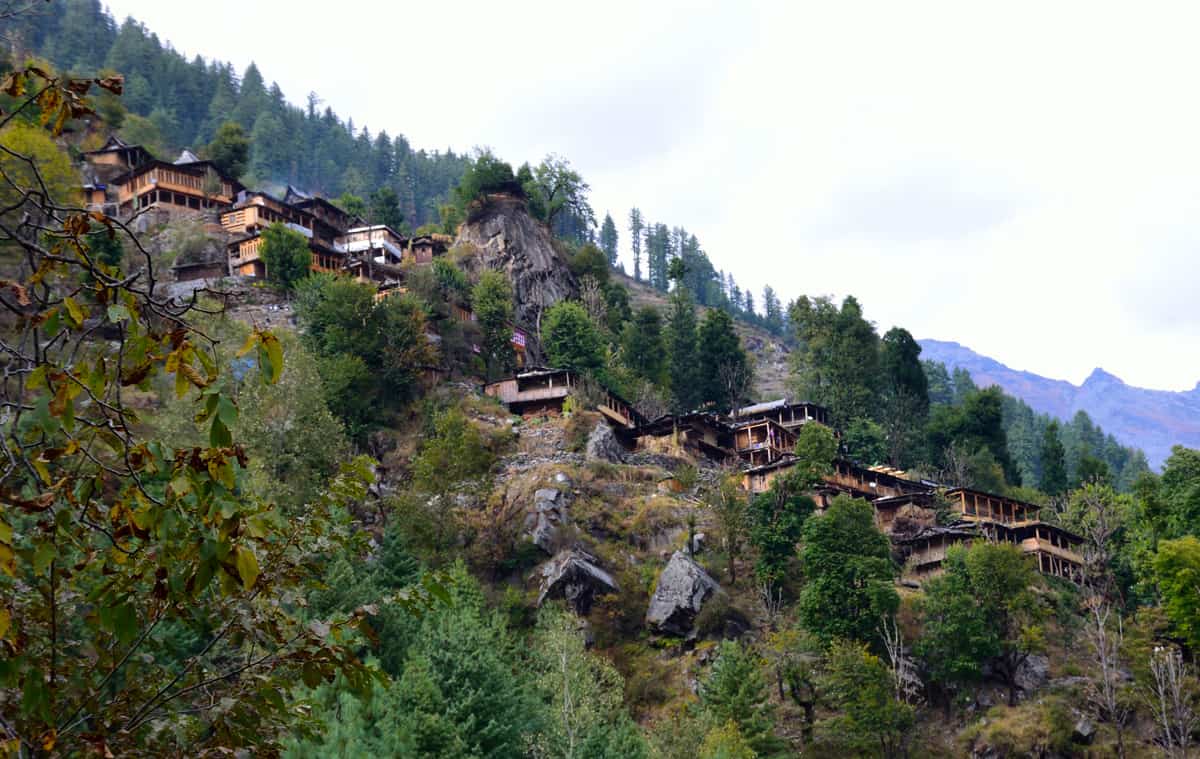 Day 4 – Uraknaal Thatch to Dhanderas Thatch
This trek is going to be one of the best treks of your life.
Climb through gushing water and grassy meadows, don't forget to take pictures.
On your, both sides will be the snowy valley.
Set the camp on a comfortable lawn. Overnight stay here with some bonfire.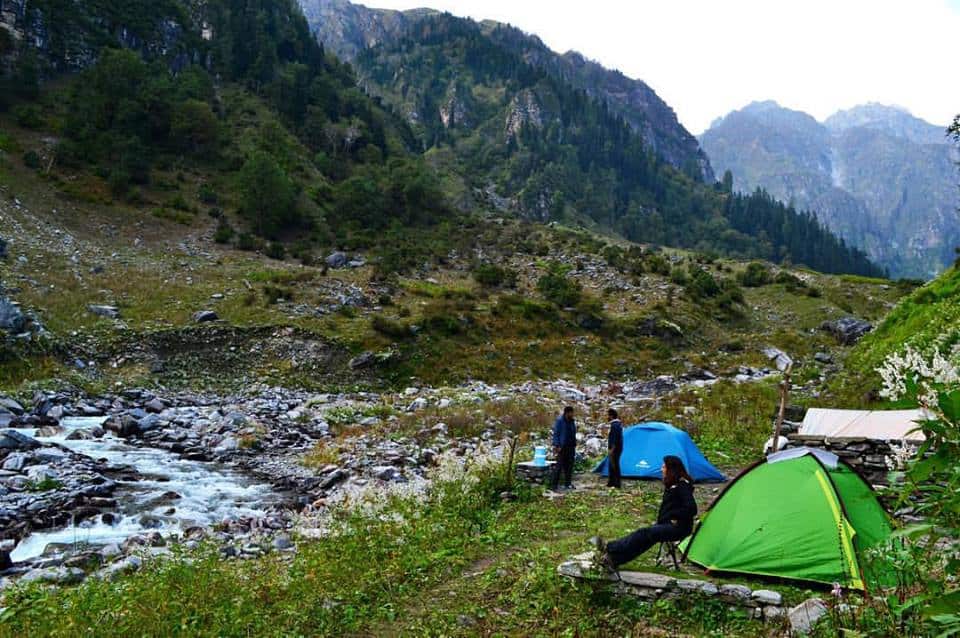 Day 5– Dhanderas Thatch to Upper Waterfall Camp
Acclimatization will help you get to the top of the Rupin Pass.
After breakfast starts your climb to the top for the waterfall.
Don't miss the everlasting yellow marigold carpet.
Use ice-ax or your boots to make a trail upwards at 4,00ft.
Spend some time at the snout of the waterfall and retire for the day.
Day 6 – Upper Waterfall Camp to Rupin Pass (Ronti Gad)
Brace yourself for the longest day of the trek with the time taken ranging from 10-11 hours.
We start today by 5 am with packed breakfast as you will need them on your way.
Pass through snow clad Rupin Pass Gully.
Don't miss to listen to your amplified voices as you pass through the gully.
Multi color flags will visible in Rupin Pass.
We halt at Ronti Gad for your coldest night of the trek.
Day 7 – Ronti Gad to Sangla
Start your day early in morning, as you will be losing a lot of adventure.
Trek through snow clad Nalgani Pass.
Enjoy your break at Sangla Kanda and share your stories about Rupin Pass with the villagers.
From Sangla, you can take a cab to Shimla.
End of an adventurous trek with loads of stories to take back home.
INCLUSIONS (Trek Route)
Cab from Shimla to Shimla for transfers.(Tempo Travellers & Trax/Scorpio)
Accommodation (Tent and Sleeping Bags)
Breakfast- Packed Lunch- Dinner (Vegetarian)
Snacks, Soup, Tea, essential food Materials for Trekking in High Altitude.
Service of Tour manager from Shimla to Shimla.
High Altitude Guide, Medical assistance etc. Trek Information and Sightseeing.
EXCLUSIONS
Transportation not mentioned under the head inclusions.
Any Personal Expenditure.
Porters to carry personal luggage.
Anything not mentioned under the head inclusion.
Any Service not mentioned under the head inclusions.
GST 5%
Fixed Departure Batches-
1. 04th May 2019
2. 11th May 2019
3. 18th May 2019
4. 25th May 2019
5. 01st June 2018
6. 08th June 2018
7. 15th June 2018
8. 22nd June 2018
9. 29th June 2019
Any dates can be given if group is larger then 15 Pax.